Pilgrim Cove Indoor Theme Pool
Now guests enjoy swimming and playing in an amenity previously available only at major parks. The John Carver Inn is home to Plymouth's wettest attraction, the Pilgrim Cove Indoor Theme Pool. The exclusive Pilgrim Cove features lap lanes and a life-size replica of the Mayflower. A giant, 80-foot water slide winds through the historic ship and passes by a refreshing waterfall. The large, relaxing island whirlpool is set in a replica of Plymouth Rock and is accessible by a bridge over the splashing waterfalls below. A sauna and a state-of-the-art exercise room complete the facility. You and your entire family will love this welcomed break from sightseeing.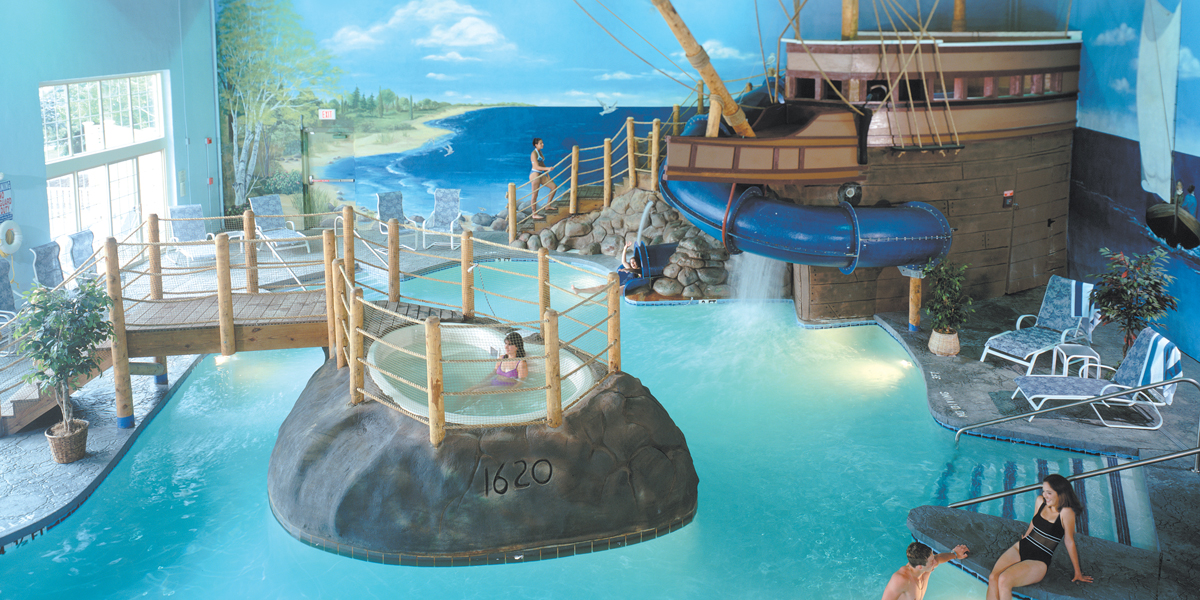 Pool Hours:
Sunday – Thursday 8am – 8pm
Friday & Saturday 8am – 9pm
*The pool hours are subject to change
The pool is closed from 1pm to 2pm daily for cleaning and maintenance.
Please note: During Holidays and Vacation weeks there will be exceptions.
All guests entering the pool area must wear the correct colored Wristband for that day and are available at the Front Desk.
Proper attire is required. Please wear shoes and appropriate swimsuit cover-up at all times while walking through the Inn's hallways, lobbies and restaurants.
On the day of your departure, the pool is available to you. Due to our 11:00am check out policy, use of the pool after 11:00am on the day of your departure is prohibited.
Pool Rules
Slide Rules
Hot Tub Rules
Additional information
Coolers or displays of alcoholic beverages are not permitted in the pool areas
Food of any sort is not allowed in the pool areas at anytime.
Glass containers are not permitted in the pool areas at any time.
Full service restaurant and vending machines are on property for pool guests.
Children under 16 years of age must be accompanied by an adult (18 or older) when using the facility; an adult MUST remain inside the pool areas at ALL times. 1 adult must accompany every 5 children.
Running, jumping, diving, chicken fights, shoulder play or body throwing is not allowed at our facility at any time.
Children MUST be either toilet trained or in "Swim diapers" to go into the pools. Disposable diapers are not permitted in the pool. Swim diapers are available for purchase at the Front Desk.
**Please be advised that our pool attendants and lifeguards will be carefully monitoring the number of bathers in the pools at a given time. If the number of bathers exceeds that of a safe swimming environment, the attendant may temporarily clear the water. Please remember that the health and safety of our guests is our primary concern and we will take the steps necessary to ensure that neither is compromised at any time.
** In the event of an "accident" in the pools, we are required by law to immediately clear the pool for proper clean up. The pool will remain closed until cleanup is completed in a satisfactory manner which may take an indefinite amount of time. The hotel management is not responsible for any loss of pool use time. Compensation of any form will not be made under any circumstances related to this matter.
The staff at The John Carver Inn & Spa thanks you in advance for your cooperation.